I just heard about a new online organizing tool, called clipix.  It's free, and pretty neat!  It's a way save and organize all the different things you see and use online every day, things that you want to come back to.  Plus, you can completely customize your privacy settings, so you can put anything you want in Clipix, and only share it with who you WANT to see it and who you grant access to see your clipboards.
So, you sign up at Clipix.com.  It's super easy, especially if you have a Facebook or Twitter.   I signed up through Facebook and it took less than a minute.   Then you can   drag a little bookmark that's called the Clip Button to your bookmark bar.  Then you can just click it whenever you find anything online that you want to come back to.  It will be clipped and stored with Clipix and you can organize it any way you like.  You can have some for Vacation Ideas, Recipes, Gift Ideas, Wish Lists, anything!  A little box pops up once you click to clip, and lets you select which board to place the page in.  Then you are also able to make Syncboars, that let your friends and family clip to the same board and everyone you invite to is able to see what you clipped to that board. 
We're planning to take a family vacation this year to sunny Florida, so I just made a board for things to do and ideas on how to save money while we're on our vacation.  I can now share this with my mom and grandmother who are also going to be going on vacation with us.  Neat!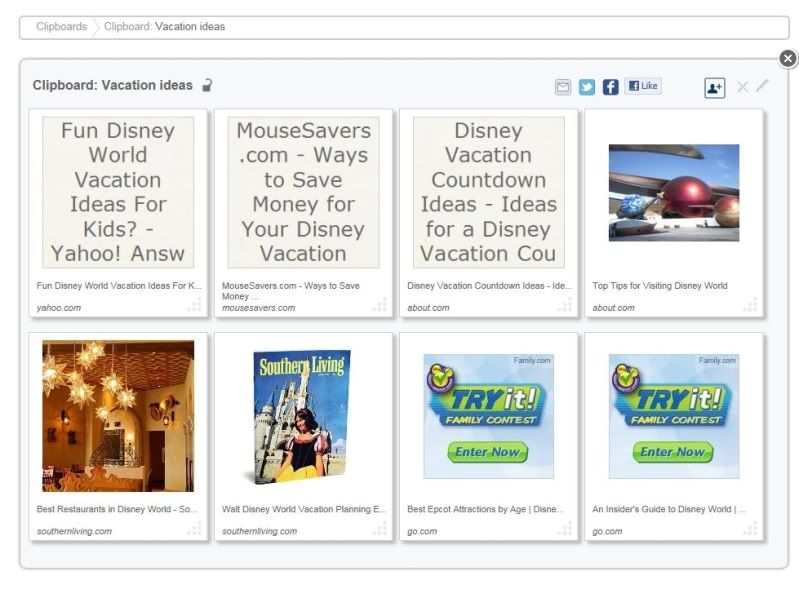 I think I'm going  to start a board with Easter Basket ideas next.  You should definitely sign up!   What do you think you would make a board for?   
  Wh What dWhat
Promoted Post