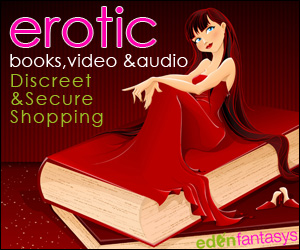 Did you know that leading
sex toys
site, EdenFantasys, sells so much more than just toys? Aside from their fabulous and ever expanding selection of lingerie, bath and body products, makeup, and candles, they sell books and
music
as well! Everything you might possibly need for a romantic evening with someone special, or a relaxing evening spent with intentions of pampering yourself.
I haven't spent a lot of time reading since I had children. That needs to change. Lately I've been taking time out to draw a hot bath with loads of bubbles, lighting some candles, and only keeping one other soft light on. I'll turn on some classical music, and soak in the tub with a good book. I'm a huge Anne Rice fan, I have been for many years. While I love her preternatural stories (and do plan to re-read them!), I decided to check out the
Beauty trio
a few weeks ago.
She wrote these under the pen name A.N. Roquelaure, but all copies I've found have been complete with her name as well. They are quite risque, but good reads if you like erotic fiction. A very interesting take on a classic fairy tale. You can find all three of these books in paper back at
EdenFantasys
, as well as many other sensual novels, and how to books (I've seen some great How-To Massage books!).

*I received one or more of the products mentioned above for the purposes of this review through the above mentioned company or representing PR agency. In the event of a giveaway, the prize is shipped by the sponsor and I hold no responsibility. Thank you for reading!