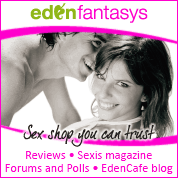 Did you know that aside from being a great place to purchase a little playful something,
EdenFantasys
is also packed with helpful conversation and information?
The Eden Community allows you to create a personal profile and interact with others by posting and commenting on reviews, as well as sharing knowledge and conversation in their forums and more.
Also, just for being a member of the community you are eligible for the Eden Points program. This program allows you to earn (a limited amount of daily) points for many activities at EdenFantasys, such as answering polls, rating and commenting on products, comparing items, writing reviews, and more. These points can then be cashed in for a gift card to EdenFantasys.

*I will be sent a gift card for sharing this post, though all thoughts and opinions are my own.