When you've been a couple for nearly ten years, sometimes you need to make it a point to keep the romance alive. We have two kids, we can't always go out or have spur of the moment romantic interludes. Sure, we stop and embrace each other throughout the day, a kiss here and there, and the love is always present, but sometimes life is just so hectic that we go through the motions and don't really stop to truly focus on each other.
I am a hopeless romantic when it comes to books and movies, though personally, in my own life, I don't really feel a need for over the top romance (I like sweet and simple, day to day moments best of all), but every now and then I enjoy planning a little something special and romantic and I find it incredibly sweet if my husband would take the time and effort to do the same. A little extra effort can go a long way in the romance department in my opinion. I would probably plan a lot more but I usually end up feeling cheesy, haha. :o)
What is your romance style?
If you're in the mood to plan for romance, you can find many great products at
EdenFantasys
! Check out their
Sensual Love
section, I love the
romantic kits
they carry. Think massage oils, candles, rose petals...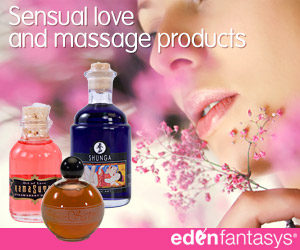 *I will receive a gift card for sharing this post, though all thoughts and opinions are my own.